A company in constant innovation
Welcome to IRIMARTEK S.A, manufacturer of high-quality Food Service Equipment for Professional Kitchens founded in the North of Spain in year 2.000.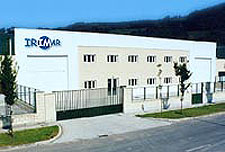 Our IRIMAR products are manufactured in accordance with most exigent Directives and Standards. This covers all aspects of design, manufacture and testing – resulting in reliable, safe and long-lasting equipment.
We only manufacture and sell top quality catering equipment held in high esteem by our customers due to the superior quality and competitive prices.
Always having a passion for good design, we are sharply focused on product development, offering some of the most efficient and reliable equipment on the market today.
Irimar products with own design

We use only the best quality components and materials, delivering a product range to meet customers' needs for reliability, consistency and efficiency.
We hold massive stocks of not only our own manufactured products but also a wide range of complimentary catering products.
Each and every customer should feel an added value in choosing IRIMAR as their commercial partner.
IRIMAR works with an established network of distributors in Spain and worldwide.
We sell to several countries across the globe and our dedicated international sales team is committed to providing customers with rapid delivery and excellent after sales support.
For details on our products or export opportunities, please contact us.