---
QUARTZ TOASTERS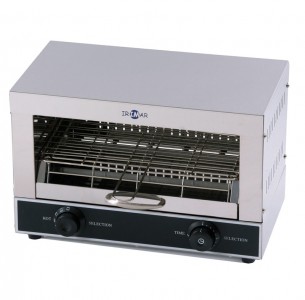 Simple toaster.
Made all in stainless steel.
Equipped with 4 thick quartz resistances divedes into 2 levels.
Provided with a 15 minute timer
1 removable grid on guides
A removable and easy-to-clean crumb tray
Start-up controlled by timer and power selector.
Great energy savings due to the possibility of switching on only 2 upper resistances, 2 lower ones or all of them (4)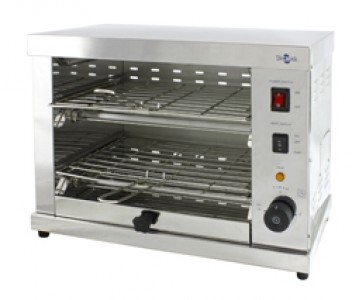 Doble toaster.
All in stainless steel.
Equipped with 6 thick quartz resistances spread over 3 levels.
Provided with main switch,15 minutes timer and power selector.
2 removables grid on guides.
The power selector allows to start 2 upper resistances or to start all resistances at the same time.
Tray on the base to gather the crumbs; removable and easy to clean
Start-up controlled by timer and power selector.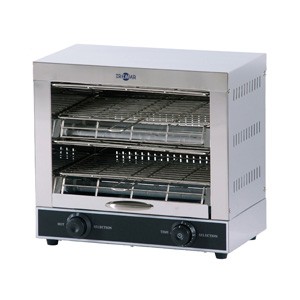 Doble toaster.
Made all in stainless steel.
Equipped with 9 thick quartz resistances divedes into 3 levels.
Provided with a 15 minute timer
2 removable grid on guides
A removable and easy-to-clean crumb tray
Start-up controlled by timer and power selector.
Great energy savings due to the possibility of switching on only 3 upper resistances, 3 central ones, 3 lower ones or all of them (9)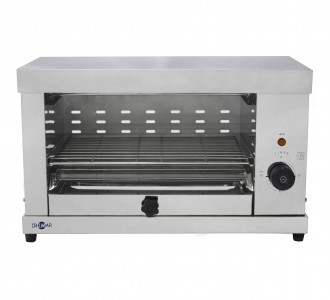 Simple toaster.
All in stainless steel.
Equipped with 4 thick quartz resistances spread over 2 levels.
Provided with 15 minutes timer.
One removable grid on guides
Tray on the base to gather the crumbs; removable and easy to clean
Start-up controlled by timer