---
HUB ATTACHMENT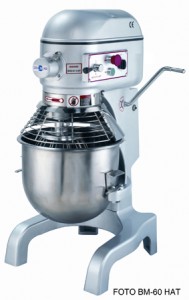 Inox bowl, aluminium alloy hook, aluminium alloy beater, wire whip and safety guard.
Protected with 2 safety microswitches; one on the guard and one on the rising level of the bowl.
Hub attachment to attach a meat grinder or a vegetable slicer.
Mechanical speed variation with 3 speeds, one for each tool.
Provided with timer, start and stop switch.
Reduction kit (bowl and 3 tools to mix in a 30 Liters bowl).