---
MANUAL STRETCH WRAPPER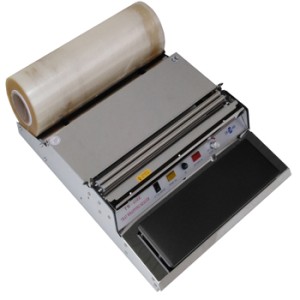 Especially indicated for food, packaging and protecting their smell, freshness and properties to the maximun.
AISI-304 stainless steel structure.
Film cutting with resistance.
Heat plate for non-stick sealing with temperature regulation.
Plate dimensions: 385 x 125 mm.
Temperature control from 50 to 160°C.
ON/OFF switch for cutting resistance.
Upper winder and support plate.
For use with film reels up to 450mm wide.
MANUAL STRETCH WRAPPER ENV-450 and stretch film coil
7690450
ENV-450 - 230V / 50Hz / 1
7370450
strech film 450mm x 1.500m